I absolutely hate waste. We are wasting a lot of resources in this country from bare necessities to entertainment items. This is even worse in the small electronics area. If a small electronics item gets broken most of us don't even think of repairing it.  There is a better, newer version out there that we want anyway, and it doesn't cost that much. So, we dump the broken one and got a brand new one. I struggle with that mentality as I know I can repair them most of the time. Do I have time to tackle every single broken electronics item in my house? Not all the time, and I previously had resource constraints as well. I used to have one table that I did my coding and electronics projects on. Our garage is not a useful place as it is detached and not finished inside so there is no room in there for me to setup my electronics lab. I was clearing out my desk every time I worked on an electronics project, pushing away the monitors, keyboard etc. The problem is that the next morning when I needed to code, my desk was covered with components, soldering iron etc. That meant, cleaning it again. I think you got the drift.
Thanks to my wife, I now have an additional desk for electronics projects:
Now the lab is in order, I decided to start up with a repair work. I picked my broken Logitech Harmony 670 remote for this job. It is more than 2 years old and was in perfect working condition as far as the remote functionality goes. The problem arose when I try to update it with a new activity by connecting it to my computer. It just wasn't syncing with my computer even though my computer detected it. Logitech wasn't helpful as it was out of warranty. So I opened it up on the new lab setup. To open the remote, first remove 4 screws shown in the picture.
Use an iPod/iPhone Pry Tool (shown on the left) to pry open the case (shown on the right)
There are total of 6 plastic tabs that hold the case together as shown below: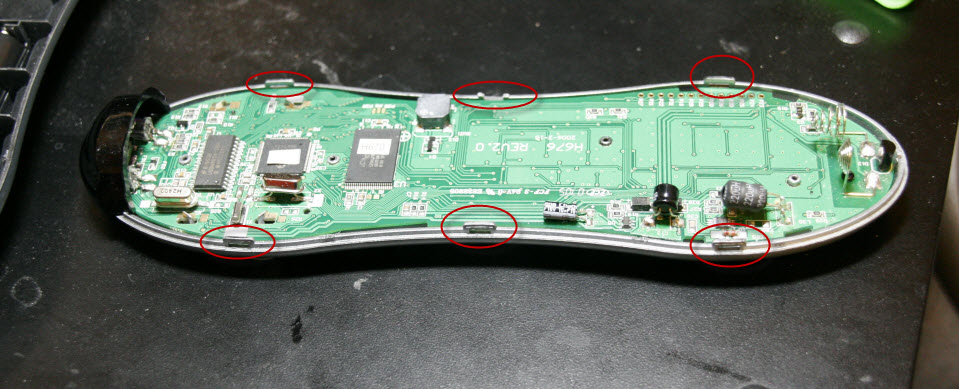 I narrowed the problem down to the USBN9604-28M USB controller IC. It operates on a 24MHz clock but the oscillator circuit wasn't generating the signal required. Since I didn't have a way to test the crystal in a quick fashion I decided to replace it. That did not solve the problem. I realized that the C5 (15pF) cap was bad too (or that was the culprit to begin with). I replaced the cap as well. See below.
The unit worked briefly until I knocked it over my desk. Upon inspection I realized that Logitech did not solder the USB connector casing to the board at all. So I messed up the USB connection by knocking it over my desk as the USB connector got bent. After properly soldering all the connections and the casing to the board everything worked like a charm.
I spent about couple of hours working on the remote. I could've gotten a refurbished one for about $70 and a brand new one for about $120. But, this is not about the money. I got a great satisfaction by fixing it, and also prevented another electronics item to go to a landfill.