My elder family members like emailing poetry and messages bundled up in PowerPoint presentations. Naturally, my mailbox is full of PowerPoint attachments with varying degrees of sophistication and fancies. I don't care much about the fancy PowerPoint presentations, but sometimes they produce content with significant substance, and I don't want it to go to waste. So, I publish them on a website to contribute to the collective wisdom of humanity.
That's why I created a free Windows application: PowerPoint Text Extractor. This application scans for PowerPoint files under the selected folder and its sub-folders, extracts the text of the PowerPoint presentation and saves it to a plain text file with the same name as the presentation but .TXT extension.
Here is a screenshot of this simple but useful application: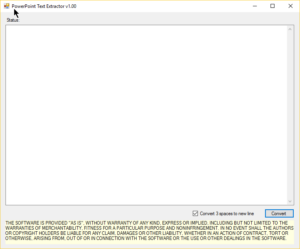 Download is available below after the legal terms.
Continue reading "PowerPoint Text Extractor or PowerPoint to Txt Converter" →